'ASA' at De Koer's TERRAS EN MUZIEK
It has lasted long enough, we throw open the doors: the Koer ajar! We fill the outside, in-between and open space with bustle and musical sounds. Ready for drinks, sun, pictures and Sunday crescendos. Welcome!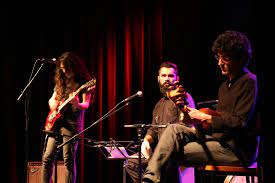 ASA
ASA brings alternative Iranian rock music with a touch of experiment. Eastern melodies are inspired by rock motifs.
Ehsan Yadollahi (Tar, Setar, and vocals), Keivan Valamanesh (electric/acoustic guitar and vocals) and Guus Coorevits (drums).