Soundroutes Band-BE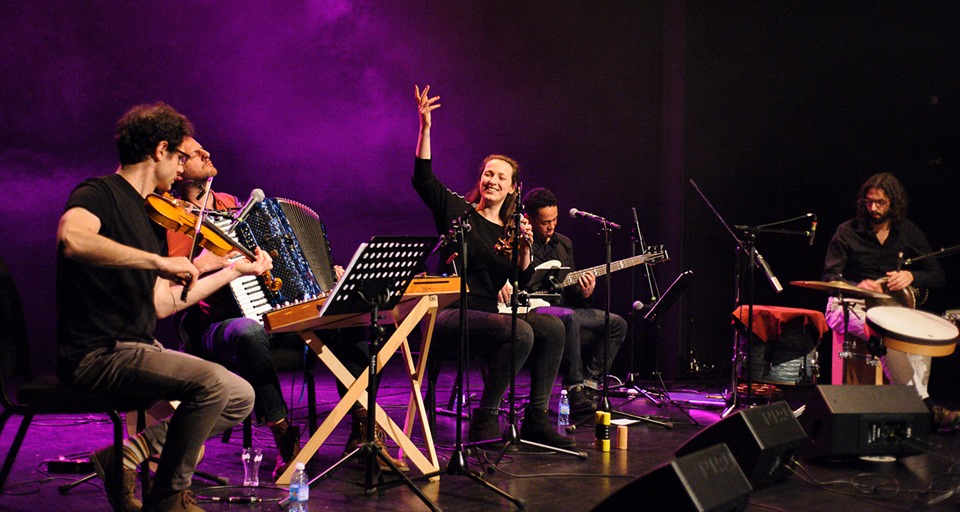 The Belgian Soundroutes band came into existence during Soundroutes I. At De Koer in Ghent we organised 7 jam sessions, focussing on transcultural musical exchanges. More than 15 musicians took part and a selection was made to form a permanent band. This band was composed of Jamal Moussaid (bass, percussion, vocals), Shalan Alhamwy (violin), Sangar Suhail (harmonium, vocals), Robbe Kieckens (percussion) en Jonas De Rave (cimbalom, accordion, piano). They worked on a repertory and performed on several occasions. Berber Verpoest followed them on this journey and made the documentary Shadow Music about the band.
Earlier this year Sangar Suhail moved to the UK and was replaced by singer Gergana Velikova. The repertory was adjusted and the new band had some concerts during the summer. They play own compositions and arrangements and bring music linked to the very diverse backgrounds of the musicians.
MUSICIANS
Jamal Moussaid
Jamal Moussaid was born in a family of musicians in Marrakech. He was part of several groups and plays drums, percussion and bass and sings.
Jonas De Rave
Jonas De Rave plays the piano, accordion, keyboards and cimbalom. He studied jazz accordion and composition in Ghent. Since 1998 he performs with several projects and plays a diversity of genres: klezmer, jazz, oriental, afro, reggae, pop, latin, tango.
Shalan Alhamwy
Shalan Alhamwy is a violinist and composer, born in Homs, Syria 1982, Holds a music performing bachelor from the High Music Institute in Damascus, violin class of professor Evgueny Loguenov 2007. He Composed music to be played by several orchestras over the world.Trained as a classical musician, with his background of Arabic music, Shalan masters both genres playing and composing.
Robbe Kieckens
During his childhood Robbe Kieckens lived in Rwanda. In 1994 his family had to come back to Belgium because of the war. Robbe developed a passion for percussion and emerged himself in the different musical traditions, with a preference for hand percussion of the Middle East. He learned most of what he knows by himself and followed classes with masters such as Zohar Fresco, Fahrettin Yarkin and Pedram Khavarzamini to refine his technique.
Gergana Velikova
Gergana Velikova was born in Bulgary and moved to Belgium in 2013. She studies pop music in Ghent and sings in a variety of bands. The genres vary from pop to ethno-balkan.
Soundroutes band Belgium's web-site
Soundroutes band Belgium's Facebook page
'Old Homs' – Soundroutes Band Belgium (live) @ DOK GHENT from de koer on Vimeo.