Omar Jammoul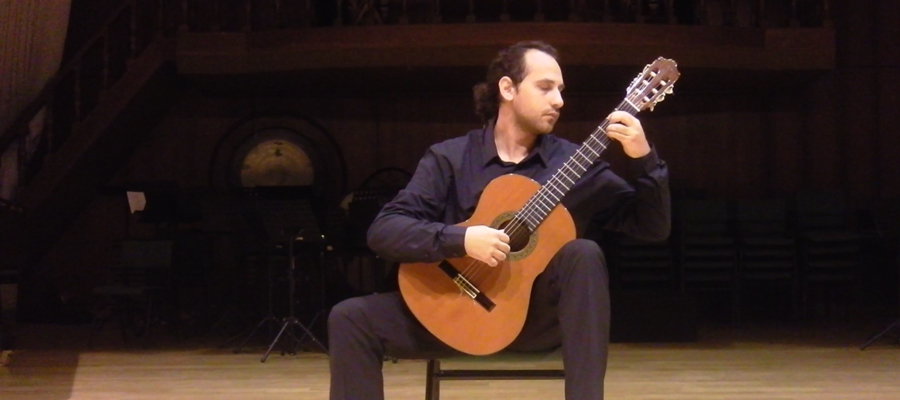 Omar Jammoul was born in 1985 in Damascus, Syria. He attained a Bachelor's degree in music from the Higher Institute of Music in Damascus, specialising in Classical Guitar Performance under tutor Mazen Saleh, and in Harmony and Composition.
He continued his studies of Classical Guitar Performance in Spain under David Martínez at the Royal Conservatory of Music of Granada and at the Higher Conservatory of Music in Málaga. He has attended masterclasses of greats of the classical guitar world, such as Leo Brouwer, Pepe Romero, Sergio Assad, Carmelo Martínez, Joaquín Clerch or Carlo Marchioni.
Omar performed chamber music as a soloist and as part of a symphony orchestras in various places in Syria, such as the Opera House, at the Italian Theatre or the National Library in Damascus. He has also performed in several venues around Spain, at the Museum of Manuel de Falla, the Palace of Carlos V, Palacio del Congreso, the Musical Documentation Center of Andalusia in Granada, the auditorium Manuel de Falla of the Higher Conservatory of Music Málaga, Palacio de Orive in Córdoba, the National Museum of Archeology in Cartagena and the San Juan de Dios Palace in Antequera, among other places.
Omar is currently preparing a project for classical guitar of his own compositions. He is also taking part in the most prestigious international competition for classical guitarists and is working as a guitar teacher at the Municipal School of Campillos, Málaga.
Links: YouTube channel