Nabil Khemir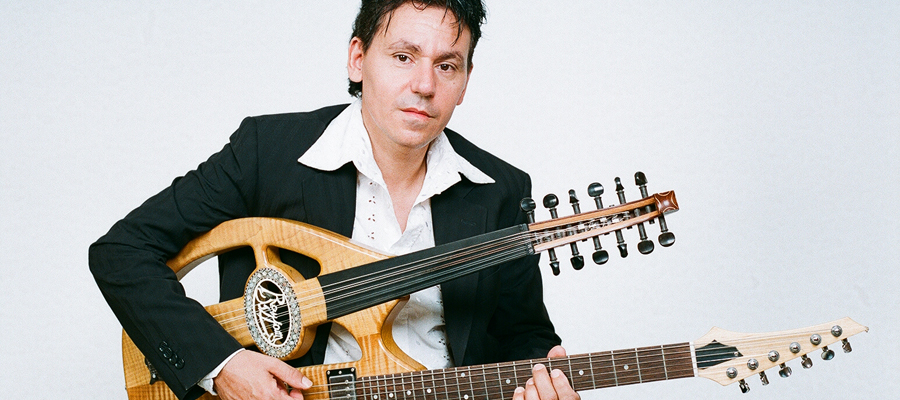 Tunisian born fusion lute/guitarist and singer Nabil Khemir, has spent a lifetime crafting his artistic skills and musical vision. Growing up in the metropolis of Tunis, Nabil Khemir was captivated by the enchanting sounds of North African Egyptian music and its rich cultural heritage. On his ninth birthday Nabil got his wish, receiving a musical lute to explore the shapes and sounds that this young boy was hearing.
Nabil being a child prodigy quickly mastered this majestic instrument and began playing publicly and singing in a weekly TV show, thus continuing to show great musical promise. Not one to waste time, Nabil continued to practice on his own, learning from the great recordings of Western Jazz musicians such as George Benson, John McLaughlin, John Coltrane and Pat Metheny to name just a few. In addition to learning from his favourite recordings, Nabil took his educational endeavours a step further when he sought out the famous lute player Ali Sriti for private master classes.
In 2004, Nabil decided to create a hybrid instrument which would allow him to share the true musical voice and vision that he had deep within his soul. After several years of research and development, Nabil's artistic vision paid off when he completed his one of a kind double neck lute/guitar instrument which he aptly named RayJam. This unique instrument allows Nabil Khemir to explore and share his musical playfulness by having an electric lute and electric guitar, allowing him to play two instruments simultaneously.
In 2017 Nabil starred in the live shows of The Voice van Vlaanderen 2017 and joined the Q Music live sessions. He also appeared in the film Cairo Jazzman from Atef Bouzid, which will run this year in many European cinemas. He is currently active as a freelance soloist for Jazz, Rai and world music and as a guest player in several bands.
In 2007 Nabil took part in the American Music Contest for Creation and Improvisation with 2.000 candidates from 40 countries worldwide, and received  the honour award for his composition Parfum d'orient et d'occident. A year later, he received the medal of culture from the President of Tunisia for his cultural contribution to his country.
Links: Website // YouTube channel // Facebook page