Mashrabiya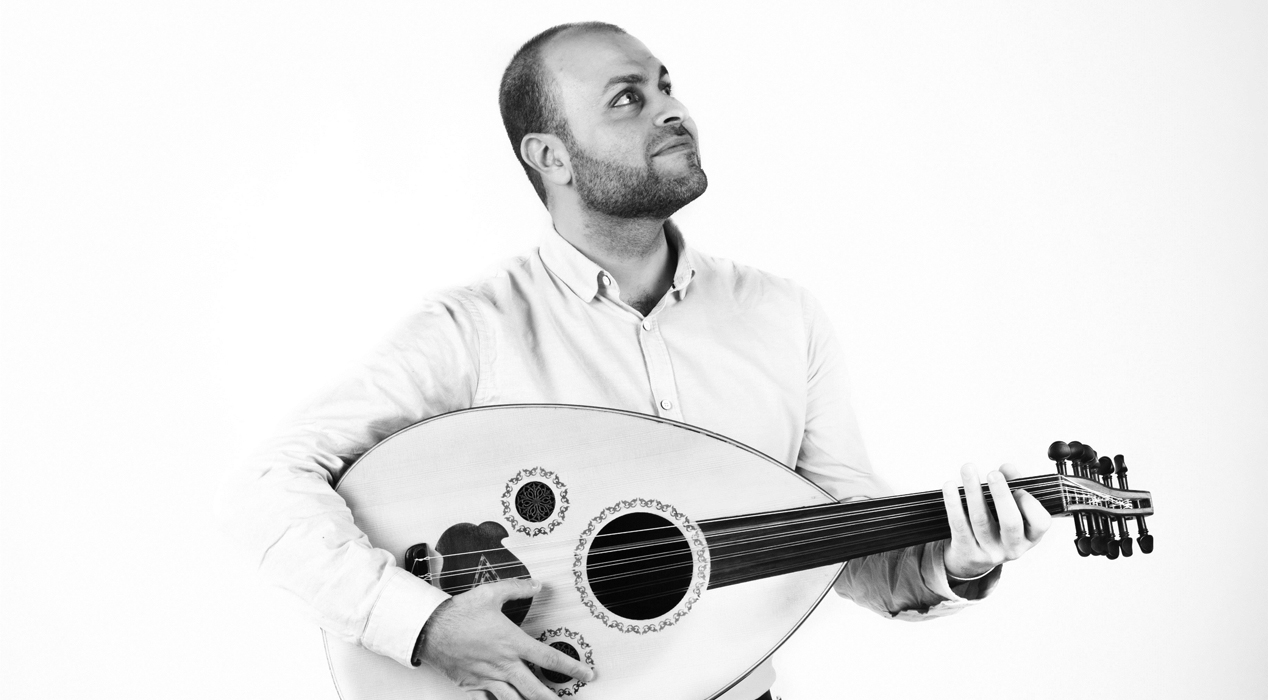 Life is a succession of unexpected encounters. Mashrabiya emerges out of a spontaneous meeting and ends in a shared musical space in which the oud and the clarinet melt intimately, wrapped in the warmth and velvet of the cello and the rhythmic cadence of the percussion. This meeting is the beginning of a process of searching for sounds, nuances, cadences starting in the Middle East, and gathers on its journey through Andalusia dances and songs from the Mediterranean. The band Mashrabiya describes itself as a window that looks towards other cultures which are either different or related.
Muhannad Dughem
Syrian-Palestinian musician, Muhannad was taught singing and Arabic lute from an early age, receiving first-hand the heritage of traditional Arabic music. His participation in many bands and his performances as a soloist have taken him to countries such as Libya, Algeria, Sweden, Portugal and Spain.
He was part of the Alwda band, formed by the Palestinian embassy in Algeria, and has performed at Al Bassel Theater in Aleppo (Syria) with his band Hulom, as well as being a soloist and singer in several concerts in Sweden.

In 2015, self-taught Muhannad moved to Spain, where he continued his musical training. He has appeared as a guest musician at events and festivals such as the open-air concert 'Nights in the Gardens of Real Alcázar' in Seville, the Edgar Neville theatre in Málaga and the Casa Árabe Madrid.
He has also collaborated with different institutions and musical formations on several projects such as Ázar, Mawwál Trio, Sham and Masharabiya.
Oscar Acedo Núñez
Born the 18th of September 1974 in Madrid started his musica l carrer as a percussinist switching to the clarinet at the age of 28. He studied for two years at the "Atelier des Vents" in Toulouse. In Seville followed the classes of Manuel Contreras, Jaime Serradilla and attended the CICUS jazz course for three years. He has been a member of the Jazz band "Buscando a Jazz" from 2008 to 2011 playing in Sevillan clubs. From 2012 is part of Yomuri project that explores the Klezmer traditional music.
Currently is commited to investigate in a broader way the world music with a specific focus on jewish and arabic traditions and their influences on Andalusian and Eastern Europe repertoires. He also collaborated in composing soundtrack for audiovisual like the documentary movies "Quivir"(http://www.alcances.org/ficha-pelicula/quivir).
Carmen Fernández Ruiz
She was born in Seville, where began her studies of cello completing them in the Superior Conservatory of Córdoba with Professor Álvaro Campos.
She has received classes from different teachers such as Marçal Cervera. Gregory Bennett Walmsley, Nonna Natsvlishvili, Claudio Baraviera, Michael Thomas and the Greenwich String Quartet.
She has a degree in History and Music Sciences and is currently working as a cello teacher at the "Andrés Segovia" Elementary Conservatory of Music in Dos Hermanas (Seville).
She has been a member of the Young Orchestra of Andalusia (OJA), also collaborating with different orchestras of the Andalusian community such as the Orchestra of Cádiz, Andalusian Chamber Orchestra, Jaén Orchestra and recently he has been part of the Bética Chamber Orchestra with different programs of his 2016-17 season.
Chiqui García
Born in Badajoz he began his studies of classical guitar in his city with Juan Guillermo Burgos Romero. He moved to Seville to further improve his studies. He has completed numerous training courses with Narciso Yepes, Sergio Assad, Hopkinson Smith and David Rusell among others. Eclecticmusician has always been open to new trends, as well as the tradition of oriental music, this has allowed him to know and handle string instruments such as bozouki and saz and classical and popular percussion of the Near East and the Maghreb. He is a member of the Caravasar and Samarkand bands..