Marzouk Mejri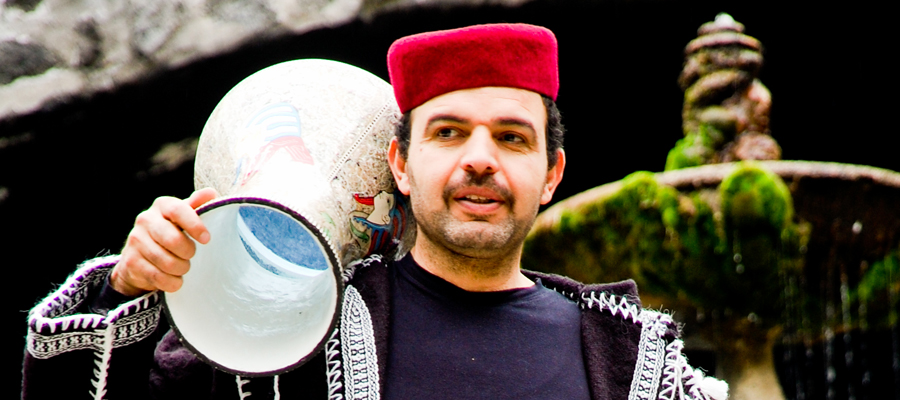 Marzouk Mejri is a Tunisian songwriter and musician, he is considered one of the greatest percussionists currently living in Italy. He was born in Tebourba, about 30 km from the capital Tunis, into a family of musicians. His father was a famous snare and darbouka player. For now 18 years he has been living in Naples, Italy, where he has collaborated with numerous famous musicians: Daniele Sepe, James Senese, Eduardo De Crescenzo, 99 Posse, Peppe Barra and many others…
Besides his work as musician, Marzouk is the leader of a Slow Food centre in Tebourba, Tunisia, where he helps to support a traditional, hand-worked, ancient grain couscous manufacture. Slow Food Tebourba sponsored the Music Festival in Tunisia, where his band Fanfara Station performed recently.
FANFARA STATION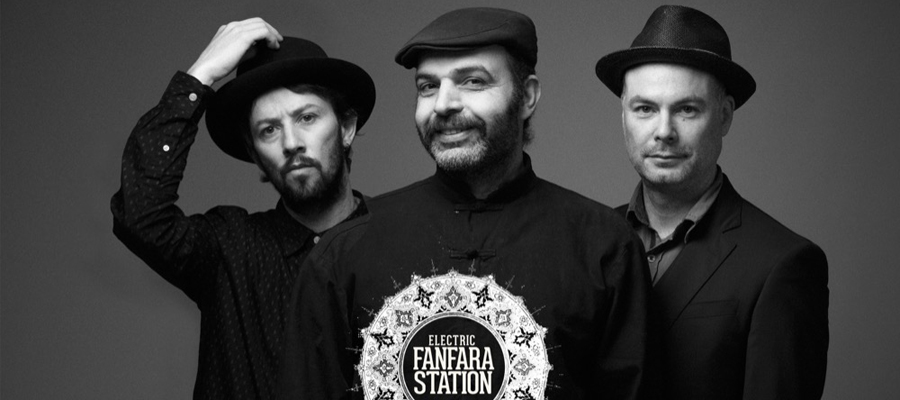 Fanfara Station is a trio that brings the power of brass band and electronics to North African vocals and percussion.
Marzouk Mejri – voice, percussion, Tunisian winds, loops
Charles Ferris – trumpet, trombone, loops
Ghiaccioli e Branzini – electronics and programming
Inspired by Marzouk's memories of his father's brass band, Fanfara Station celebrates the epic feats of the Mediterranean's migrants, the musical cultures of the African diaspora and the flows that have long connected the Middle East, the Maghreb, Southern Europe and the Americas.
Fanfara Station is a music celebration which can only be described as sounding like a Balkan brass band, an entire North African rhythm section with a generous dash of contemporary electro dance beats. It's a huge dance party created live by only three musicians thanks to the use of loop stations for live over-dubbing. The stage is filled with instruments: percussion: scascika, tar, bendir, darbuka and tabla next to the trumpet, trombone, clarinet and three Tunisian woodwinds: the ney, mizued and zocra. Then there are dozens of wires connecting loop stations, controllers and an array of effects pedals. A myriad of acoustic and electric sounds accompany the voice of singer and song writer Marzouk Mejri.
The brass sound of Fanfara Station brings folk blues and Balkan accents into an electro acoustic North African universe, represented by layers of percussion instruments, woodwinds and singing. Modern folk sensibilities are threaded into a contemporary electronic dance fabric.
Links: Facebook page

MARZOUK ENSEMBLE
Suspended atmospheres and pulsating accelerations of the beat, undulating sounds of the tambourine, interspersed with flutes and reeds, the melismatic singing of Marzouk Mejri, lashes of free jazz, funk and progressive rock, touches of electronics, dub and reggae from Tunisian multi-instrumentalist (ney, mezued, zukra, darbuka, bendir, tar) who has been living in in Naples for the last 18 years,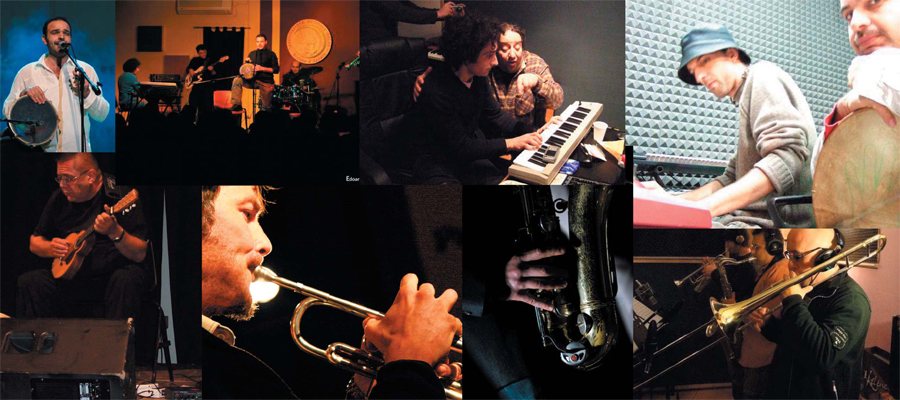 The Marzouk ensemble's show is based on several key points:
the creation of a strong international sound coming from Charles Ferris (trumpet), Gigi Scialdone (bass), Pietro Santangelo (saxophones), Sasà Priore (keyboards) and Marcello Giannini (guitars).
Sounds and lyrics which declare a strong belonging to the millennial musical culture of the Maghreb also deal with existential, social and political issues of today.
Inspired by the verses of the Tunisian poet Aboul-Qacem Echebbi, who understood the power of speech as a weapon, and who was a fierce opponent of Tunisian tyranny and French colonialism. Be touched by songs of love, faith and courage when dealing with life.
Their show is full of encounters, global sound experiences open to the world, which do not translate into global banalities glossily disguised as ethnic exoticism, but a convergence of sound moods and differing geographical origins, filled with strong spirituality and with a clear metropolitan imprint. 'A garden of sounds' (Genina, which means garden in Arabic, is the title of the debut album and also the name of Marzouk's mother). combines unusual interactions between rhythms, instruments and musical forms.
Links: MySpace page