Al-Ali Ensemble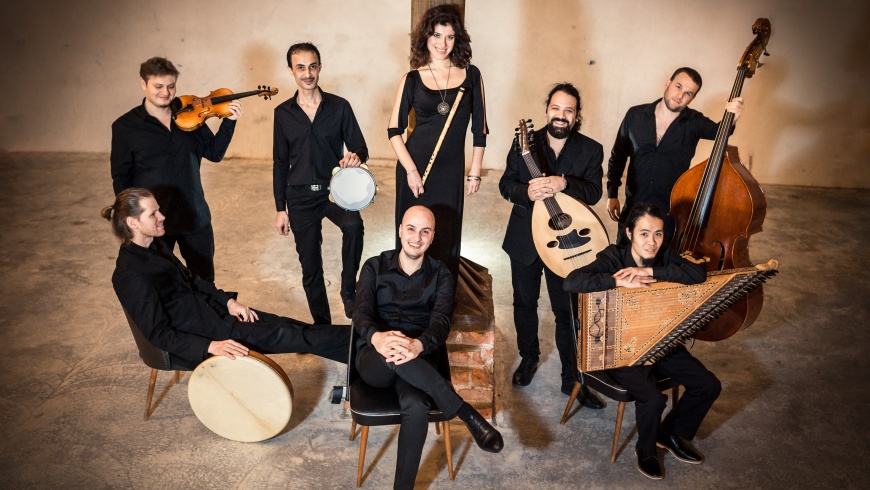 Classical melodies of Western luminaries are often played in the occidental cultural stronghold of Berlin, yet a plethora of untouched musical treasures from all over the world are waiting to be discovered by the gentle music lover. This is the belief shared by all members of the Husam Al-Ali Ensemble, which has set itself the goal of bringing Middle Eastern classical music closer to the West.
From the meeting between the singer Husam Al-Ali and some musicians of the Berlin world music scene, the idea was born in the beginning of 2018 to establish an ensamble that presents Arabic classical music in its traditional form. It should be noted here that classical Arabic music does not come from the eighteenth and nineteenth centuries, such as European classical music, but emerged between the thirties and the eighties of the twentieth century. This era has spawned great composers such as Mohammed Abdel Wahab, Farid El Atrash and Abdel Halim Hafez, as well as legendary singers and performers such as Oum Kalthoum, Fairouz and Sabah Fakhri.
The ensemble pursues another goal: to internationalize the performance practice of Arabic classical music. Coming from Arab, European, Eastern European and even Asian countries, the ensemble is made up of some of the best musicians in the genre. They all found their new home in Berlin. Husam Al-Ali himself comes from Homs, Syria, where he studied at Baath University. After graduation, he founded his first ensemble, with which he was to experience on the stages of Aleppo, Latakia, Beirut and Damascus. In 2015, he performed with his ensemble at the Damascus Opera House as well as at other well-known performance venues and had his own television program "Samaae Ugarit" on Syrian television.
The Husam Al-Ali Ensemble invites you to immerse yourself in the oriental culture that has now found a new home in the West.
Husam Al-Ali Ensemble's web-site