Fawda Trio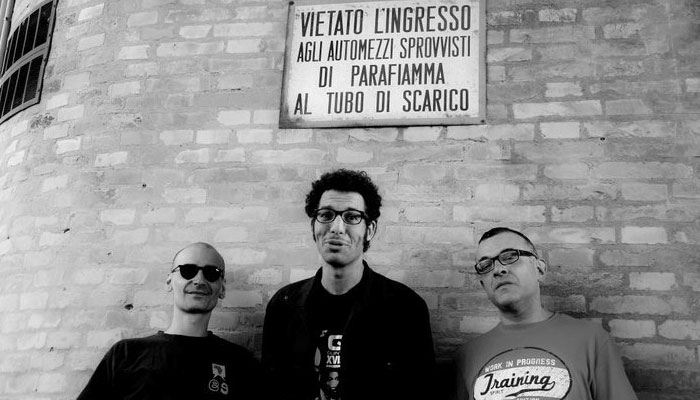 The Fawda Trio project navigates through sacred and profane repertoires testifying to an antique musical heritage that remains open to contamination. Fawda is an encounter between tradition and innovation that touches on the sonorities of Gnawa music, psychedelia and jazz. Gnawa music is pure groove, the warm, low sound of the guembri and voices transporting you across time. Fawda Trio join LV aka Swamimillion for the 2013/14 production Road To Essaouira.
Red-A Zine: voice, bass, guembri
Born in Casablanca in 1977, Reda Zine is a polyglot singer, guitarist and guembri player. He lives and studies in Paris where he has founded the collective Café Mira (album Gnawrock included in the compilation "Flowers in the Desert" released on EMI). He's appeared on stages in New York, Beirut, Copenhagen, Istanbul, and Tunisia. In 2008 he founded the group Hardonik and the Fawda Trio (Gnawa Psychedelik) in Bologna. He collaborates with Fabrizio Puglisi in the teaching laboratory "African Symphony for Improvisers". He was in charge of artistic direction and musical production between the Maghreb and the rest of the world for the project "Sharing In The Spring" (Creative Commons production 2011-2012). Since 2011 he has added his voice and the inimitable groove of his guembri to the afrobeat of Voodoo Sound Club.
Danilo Mineo: percussions, voice
A multifaceted percussionist, Danilo has collaborated over the years with various artists and across various recorded projects including Voodoo Sound Club, Mop Mop, Katzuma and The Expanding Disco Machine and Gaspare De Vito Passing Notes. He's also appeared at various music festivals (Italy, Germany, France, Spain, England, Turkey). He works in music teaching as national educator with Franco Rossi and the AMMnationalschool of Milan, with whom he has published 'The Self-Taught Percussionist'. He also runs percussions classes at the Scuola Popolare di Musica 'Ivan Illich' in Bologna.
Fabrizio Puglisi: fender rhodes, ARP, voice, percussions
Fabrizio is a pianist and composer based in Bologna. He entered Bologna's DAMS in 1987 graduating with honours with a thesis on Cecil Taylor. Between 1997 and 2003 he spent time in Amsterdam where he collaborated with Dutch musicians including Tristan Honsinger, Han Bennink, Ernst Glerum, Ab Baars, Sean Bergin, and more. He has also collaborated with Lester Bowie, Hamid Drake, Steve Lacy, Don Byron and many others. Fabrizio has played in festivals across the Americas and Europe. With a lifelong interest in the relationships between music and trance, he also likes to explore the confines of other artistic expressions collaborating with dancers, actors, writers, directors and visual artists. He is a member of the collective Bassesfere, which focuses on the development and spread of improvised music and with whom he hold classes at the Scuola Popolare di Musica 'Ivan Illich'. He also teaches the piano forte in the Jazz course of the Conservatory 'G.B Martini' in Bologna.