Ehsan Yadollahi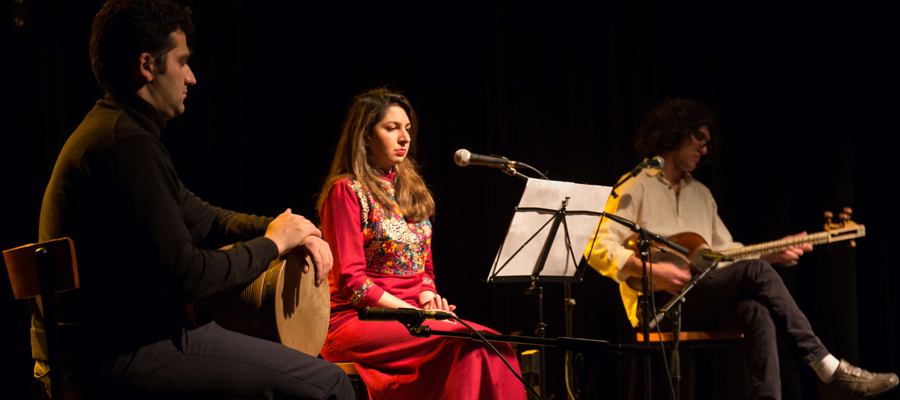 Ehsan plays the string instruments Tar and Setar. He has been playing Iranian music since 2004. Now, living in Belgium, he has performed with a wide variety of musicians and bands. He discovered a passion for world music when playing fusion and alternative music with the bands SABA ​​(middle eastern music​)​ and ​ASA​ ​(Alternative Rock-Iranian music​).
​​​With the SÂZ ensemble, Ehsan explores Iranian traditional music, basing his work and compositions on contemporary/classic Iranian poetry. Together they have performed at music festivals and cultural events in Belgium, France, Holland, Malaysia and Iran. The concept of improvisation plays a major part in his compositions, as does being open to World Music, making it effortless for Ehsan to incorporate the music of other countries.
Links: Website
SÂZ ENSEMBLE
All three members of the band are from Iran: Ehsan Yadollahi (Tar/Setar), Rossana Azhandeh (vocals) and Nima Moshgbar (percussion). Their performance is normally in two parts. During the first part, the ensemble plays the most popular traditional songs of Iran. The songs are from the 1920s-1930s and can be either instrumental or vocal. The band attempts to perform these pieces in precisely the same way as they were composed. In the second set, Ehsan's own compositions, which are based on early 20th century poetry is performed. The choice of selected poems is about the life of immigrants, and the difficulties they may experience while following their dreams. The meaning of the poetry and its' rhythm are finely balanced with melodies to express a sincere emotional quality.
Performances:
Ghent (de centrale, Yalda night, Iranian community)
Brussels (Muziekpublique)
Leuven (Pangea, Kadoc Kapel, Pieter De Somer Aula (Pds)
ASA
ASA is an Alternative Rock-Iranian outfit. Eastern modes are inspired by Western Rock motifs, which are based on the musician's current emotion. A frame is composed for every song, but the melodies and tunes may be different every time the song is performed. There are currently four musicians in the band: Ehsan Yadollahi (tar) and Keivan Valamanesh (guitar) from Iran, Sam Van Renne (synthesizer) and Pat Seynaeve (bass guitar) from Belgium.
Performances:
Ghent (de centrale, huis van heden, bij' de vieze gasten, radio Urgent.fm, hand in hand gent, Herberg Macharius)
Antwerp (Radio centraal, Monty Kultuurfaktorij, Pedrami art gallery, oude beurs)
Brussels (Nationale bibliotheek)
Leuven (Pangea)
Festivals:
Gentse Lende, March 2017 (Ghent, Belgium)
Les Gouts de Gand, May 2017 (Ghent, Belgium)
SABA
SABA is the Iranian word for morning breeze. "It ​brings fresh air like the music we play", says Ehsan. "We are working on original melodies from the Middle East. The framework for each song is the same as the original, but we improvise along the core melodies. It's the sound of Middle East brought to you by SABA. We also do free improvisation over some maqams from Iranian/Syrian folk/traditional music".
Performances:
MSK museum of fine arts Gent Oct 2016
ENTR de centrale, Gent, May 2017​
​Art-base, Brussels, July 2017​