Omar Jammoul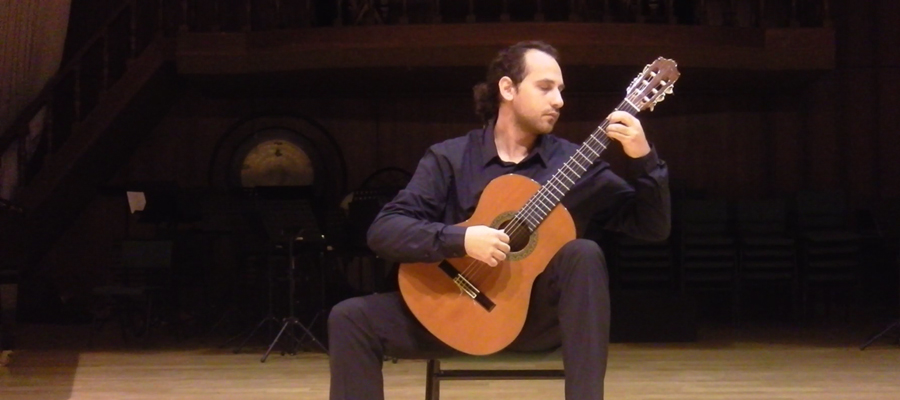 Born in 1985 in Damascus (Syria). Bachelor of music from the Higher Institute of Music of Damascus, specialty of
Classical Guitar performance with the master Mazen Saleh, and Harmony and Composition as a second specialty.
He finished his studies of Classical Guitar performance in Spain with the maestro David Martínez at the Royal Conservatory of Music of Granada and at the Higher Conservatory of Music of Málaga. He has followed masterclasses with great names of the classical guitar world, such as Leo Brouwer, Pepe Romero, Sergio Assad, Carmelo Martínez, Joaquín Clerch or Carlo Marchioni.
He has performed concerts as a soloist, chamber music or with symphony orchestras in various places of Syria, such as the Opera House, the Italian Theatre or the National Library in Damascus. He has also played in several stages in
Spain, as the Museum of Manuel de Falla, the Palace of Carlos V, Palacio del Congreso, the Musical Documentation Center of Andalusia in Granada, the auditorium Manuel de Falla of the Higher Conservatory of Music Málaga, Palacio de Orive in Córdoba, the National Museum of Archeology in Cartagena and the San Juan de Dios Palace in Antequera, among other cities.
Currently, he's preparing a project for classical guitar containing written and transcribed works by himself. He's also participating in the most prestigious international competitions in the world of classical guitar, inside and outside of Spain. On top of that, Omar is currently working as a guitar teacher at the Municipal School of Campillos (Málaga).
Links: YouTube channel