Alaa Zaitounah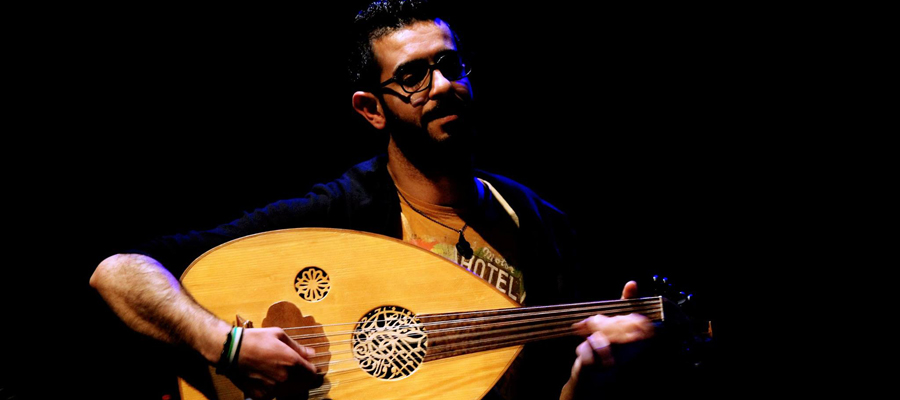 Alaa Zaitounah, a musician raised in Swaida, Syria, first studied geophysics at the University of Damascus and was about to complete his master's degree when he was forced by the war to leave Syria. Alaa started early to play the oud and was inspired by his father, who also played the oud.
Alaa is flexible for many kinds of music, in which the oud as a traditional Arabic instrument can be applied (opera, rap, classical, oriental, choirs…). He was leading an oriental orchestra in Syria before coming to Germany, where he started the project of the Begegnungschor (Choir of Hope) of Berlin in February 2016; a choir founded with the goal of bringing together people who have long resided in Germany with refugees. He also regularly conducts the orchestra of Dani Alor.
Together with Abdallah Rahal he founded the band Musiqana, and besides he plays with many bands in Berlin as an oud player, like Mazzaj Rap. Since Alaa lives in Berlin, he has given concerts throughout the city, one of the biggest being in the Berliner Philharmonie with Musiqana.
Music for him is the whole world: it breaks all the boarders, unites the planet. He says: "If we return back to the first being, where we couldn't speak any language, we would speak only music. I don't belong to Syria, Germany or to any place in the world. Only music can draw a perfect world".
MUSIQANA
Musiqana is a Syrian band based in Berlin, Germany, who play Tarab music, a popular kind of Arabic chansons, which are famous in the Middle East. They founded the band in January 2016 after arriving in their Berlin exile. Musiqana unites an Arabic, German and English speaking audience in the euphoric concert experience of Tarab music. They have become a kind of icon in these days, when so many Syrians have found safety in Berlin. Not least for the international press, including The New York Times, the Daily Mail or the Associated Press news agency, which celebrates the band as "a symbol of the integrative power of music in Germany". 26 concerts in the first year of their existence culminated in the sold-out Lunchtime program at the Berlin Philharmonic and with the publication of their first CD, titled "El Helwa Di – Das Schöne Wesen" (The Beautiful Creature).
MAZZAJ RAP BAND
Mazzaj is an Arab conscious rap band with political messages origined in the city of Tartous, Syria. They were recently performing live at Literaturmarathon (event celebrated in Moabit, Berlin) some hard East Mediterranean beats and Syrian rap.